Lesson 4: Decide on your "class project" - what are you going to do with your photos from this course?
At the end of this course, you are going to have 30 photos from your photo-a-day project plus potentially more from assignments and your general photo taking.
One of the aims of this course is to not just get you taking better photos but to get you sharing them.
When you create finished products with your photos, it helps you feel good about what you're doing as a parent - and gives your kids confidence and pride too.
Sharing photos is also a great way of creating a community and network of support for your family. I know there are people all over the world who have never met my kids but are cheering them on because of the photos that I've shared of them online. And when people come to visit and see photos of our family on our walls and in albums, it gives them a deeper connection to us as well.
You can always come up with projects for your photos after the fact, but what is really powerful is if you decide ahead of time what your project is going to be.
This will keep you even more motivated and inspired to create it.
To make it easy for you, I've come up with five "30 day projects" that you can choose from.
There are TONS of great photo vendors out there with increasingly interesting, creative and convenient products that help you get your photos off your phone and out into the physical world. Many of them have apps so you can upload your photos directly from your phone. It is also becoming very common that you can upload directly from Facebook, Instagram, Dropbox or other channels.
To keep it simple, all of the class project options I have come up with use products from Social Print Studio - they are not an official sponsor of this course, nor do I receive compensation for recommending them, I'm simply a happy customer that has been very impressed with the quality of their products and the options they offer.
You can upload photos via their website from your computer, Facebook, Dropbox, Flickr, Google Drive or Google Photos. You can upload from your phone or from Instagram via their app.
Put this into action:
Pick your "class project" for this month. Choose just one project! No really, just one! If you have time to do more than one, great, but let's focus on one project first.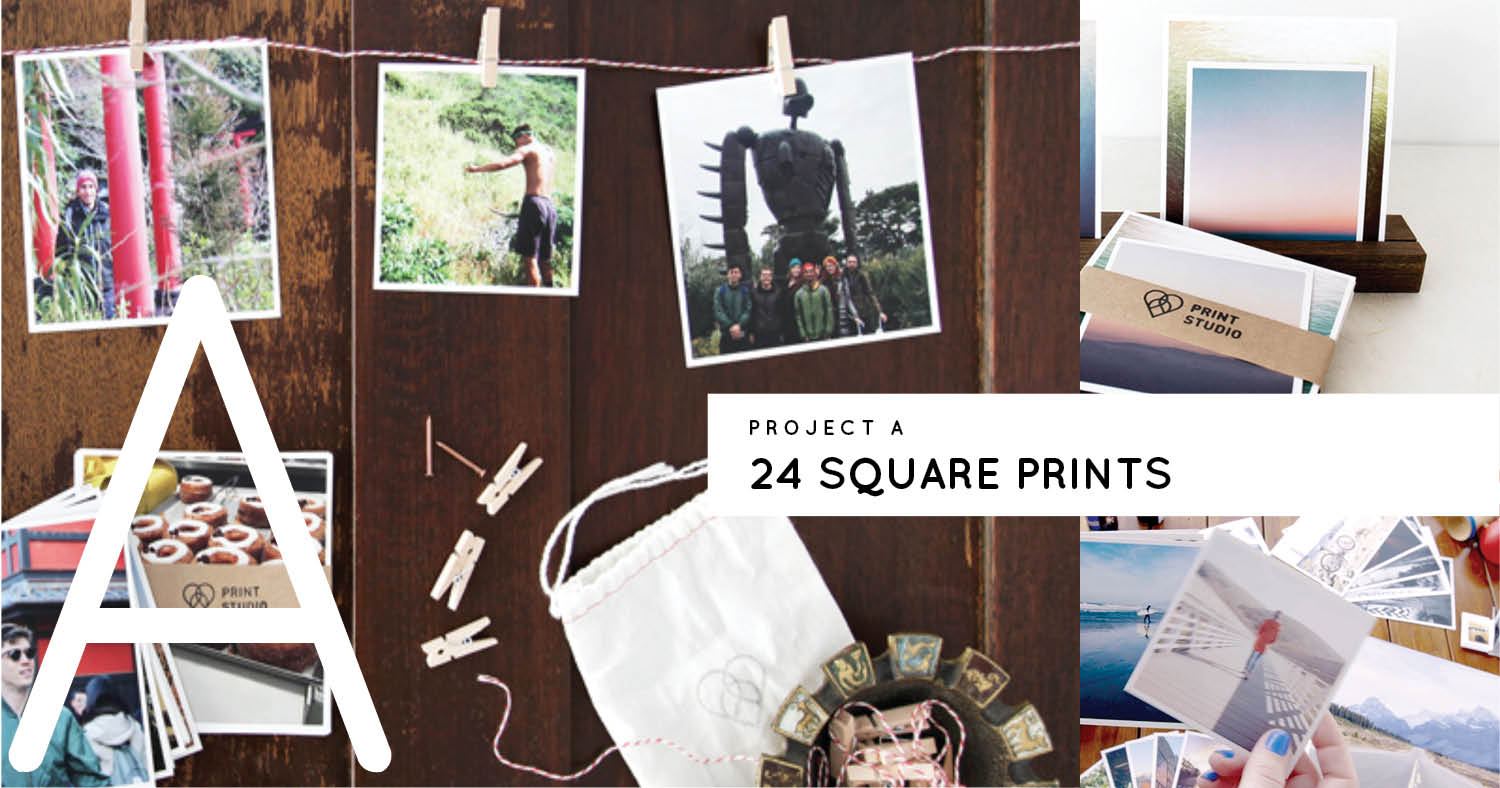 I really want you to set a goal now for the project you are going to do as it will inspire you in your photography taking for the entire month. When it comes to the end of the month, you can always decide to switch to a different project if it seems to better suit the photos you ended up taking.
Project A: 24 square prints
https://www.socialprintstudio.com/squares
Display options:
This is a great informal way to print almost all your photos from the month as beautiful square prints, and there are many fun ways to display them.
Going forward, each month you can print new ones (or you can go back through your archives to print old favorites) and have a rotating display.
Your kids can have fun choosing which prints to display, and you can collect prints that rotate out from your display in a memory box or put them in an album.
The wood block display is great for your home or office desk. The clothespin or magnetic displays are great for your child's bedroom.
Project B: square magnets
https://www.socialprintstudio.com/square-magnets/
These are really fun for your refrigerator or metallic bulletin board and nice and durable for little fingers. My kids absolutely LOVE the photo magnets we have of them - it gives them so much pride.
PROJECT C: 12x12 framed print https://www.socialprintstudio.com/classic/
One photo
Grid of four photos
Grid of nine photos
Grid of sixteen photos
This is a great way to create a special keepsake from the month, especially if you've been a little lax about getting framed photos on your shelves or walls. And what I like about this product is that if you don't have ONE photo that you love and want to print, you can group a collection together so there is less pressure on any one photo to carry the day! Works well for home or office.
PROJECT D: metal prints
https://www.socialprintstudio.com/metal-prints/
Grid of four 4x4 prints
Grid of nine 4x4 prints
Grid of four 8x8 prints
Series of three 8x10 prints
I love these metal prints - they are a beautiful and durable yet still informal and unusual way of displaying, in particular, your smartphone photos. Sit them on a desk or shelf, or mount them on a wall. Great for home or office.
PROJECT E: 30 day photo album
http://chatbooks.com
I realize you wouldn't necessarily want to do this every month, but think of this as a "month in the life of" project where you create a simple book with all your photos from the month, plus captions.
Note that the TinyBeans albums are for a minimum of three months (and don't include each photo with the caption), so to make a one month album I recommend using Chatbooks.
You will want to either:
Upload your daily photos and captions to Facebook or Instagram (I still recommend using TinyBeans as well for the organization within a calendar)

OR
 
Save each TinyBeans photo somewhere so you can easily upload them to Chatbooks manually, and you'd have to copy the captions over manually too (or with a Pro TinyBeans account you can download your photos for the month with one click, but the captions would still need to be copied manually).
Remember - choose just one project as your target for the month so you have an end product in mind to motivate and inspire you. You can always adjust at the end of the month.
Today's photo prompt: What are you most excited about right now?
Up next: What do you most want as a parent?
Note: I'll be giving you daily photo prompts to help you in your photo-a-day project but they are completely optional. Ultimately you should choose the photo for your project that best reflects what you most want to remember about the day.